About Us
Company Information
TuscanyAll.com is a Travel Agency authorized by the Florence Chamber of Commerce, according to the Italian and European laws and standards. Its activity is based on the experience of its founding members in the internet and tourism industry.
Data Protection & Privacy Policy
All personal information acquired by Tuscanyall.com will remain confidential according to the law 675/1996 and any information will be exclusively used by Tuscanyall.com to carry out orders availability and reservation.
The personal information will not be shared with any third parties and customers have the right to request the removal of their information at any time. (in this case, please contact info@tuscanyall.com)
General insurance conditions for
Tuscanyall.com s r l – Tour Operator
Authorisation granted by Provincia di Firenze
Insurance cover on the basis of the following law and European Community directive: art.3 L.R. 23 marzo 2000 n. 42; Legge 27 dicembre 1977 n. 1084; Direttiva 90/314/C.E.E. Del 13 giugno 1990 and signed between TUSCANYALL.COM SRL and ITALIANA ASSICURAZIONI SPA third party liability policy no. 6125614. Insurance Policy FILO DIRETTO PROTECTION for insolvency or bankruptcy – NOBIS Compagnia Assicurativa Policy no. 6006001244/W.
- Insured name: Tuscanyall.com srl, with offices in Florence in Via di Scandicci, 22R P. IVA 05511100488
- Description of the risk insured: the insurance covers liability for the activities of the Travel Agency and, the organization and intermediation for the trips and accommodations marketed.
- Maximum Foreseeable Loss:
Maximum for each accident: 2.000.000,00 euro
Maximum for each person: 1.000.000,00 euro
Maximum for damages to things or animals even if they belong to other people: 500.000,00 euro.
The insurance is valid everywhere in the world.
Copyright Notice
copyright © Tuscanyall.com s.r.l.
Via di Scandicci, 22R - 50143 Firenze (FI) - Italy
All rights reserved
All content of TuscanyAll.com srl websites, including layout and design, are protected by copyright under Italian and European law and may not be copied or imitated in whole or in part.
Tuscanyall.com srl will not be held responsible for the contents of the web sites outside the domains owned by www.italy-museum.com, www.rome-museum.com, www.florence-museum.com, www.milan-museum.com, www.venice-museum.com, www.myflorencetours.com, www.myrometours.com, www.siena-museum.com, accommodations.tuscanyall.com, transfer.tuscanyall.com or the contents of the web site links that are outside our domain names.
Company Profile
TuscanyAll.com was created in 2003 following the dream of its founders to introduce, transmit and enhance the Italian culture and artistic heritage.
It all began with hospitality by offering customers a fine selection of villas, cottages, Historic Residences and B&B in Tuscany.
In 2005 TuscanyAll.com expanded its commercial activities to include offers such as: cultural tourism.
TuscanyAll.com bases its business on ethics, reliability, customer care, product quality, innovation and professionalism of its staff.
TuscanyAll.com has a range of high quality products, thanks to the ten-plus year collaboration with Museums and tourist services of the most important Italian cities. Our on site services include: transfers, accommodation, catering, licensed guides, etc...
Years of passionate work have established professional relationships, based on trust and respect, with museum staff, superintendents, loyal customers and above all its co-workers.
TuscanyAll.com offer an excellent service and hospitality on any language to customers of all nationalities.
The high quality of TuscanyAll.com products is based not only on the experience and professionalism of the company, but on the excellent Executive Staff, tour leaders and specialized tour guides, who day by day allow the company to exploit the riches of Italian tourism and offer visitors a unique and unforgettable experience.
A constant investment in technological innovation and research provide customers with more efficient services and favorable working conditions to the staff. This has made of the company a strong reference point for tour operators and travel agencies around the world, who recognize in TuscanyAll.com the solution to the needs of their customers.
The commercial area of the company is constantly engaging in research and design of new products, which contribute to the realization of the dream that gave birth to the company.
Head Office
Head office & Reservations:
Tuscanyall.com
Via di Scandicci, 22R - 50143 Firenze - Italia
Tel. +39 055 713655
Fax: +39 055 7193507
http://www.Tuscanyall.com
email: info@Tuscanyall.com
Business Division: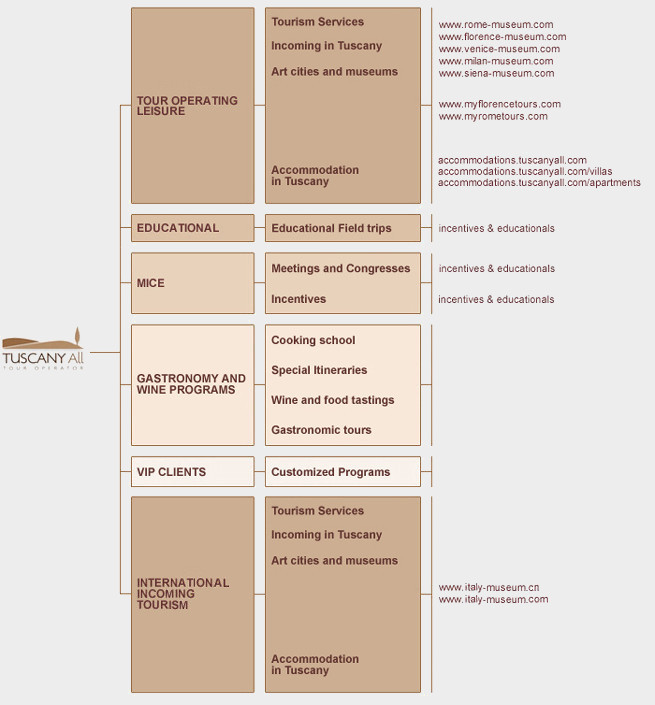 Museums we work with:
Vatican Museums
Colosseum
Borghese Gallery
National Roman Museum
Baths of Caracalla
Uffizi Gallery
Accademia Gallery
Boboli Gardens
Palatina Gallery
Bargello Museum
Archaeological Museum
Medici Chapels
San Marco Museum
Leonardo's Last Supper
Brera Pictures Gallery
Pinacoteca Ambrosiana
Bramante Sacristy
Doge's Palace
Correr Museum
Archaeological Museum
Monumental Rooms of the Marciana National Library
Ca' Rezzonico
Museum of Palazzo Mocenigo
Carlo Goldoni's House
Ca' Pesaro
Glass Museum of Murano
Lace Museum of Burano
Museum of Natural History
Services Offered
Museum Ticket Office: with TuscanyAll.com you can book your tickets for the most important Italian and Vatican Museums, avoiding the long lines at the ticket offices.
Guide Service: for those who wish to visit the most beautiful cities in Italy and its museums, accompanied by an expert guide we offer two options: a predefined tour (English, Italian, French, Spanish and German) or a private guide, organized according to customers interests in their preferred language: English, Italian, French, Spanish, German, Chinese, Danish, Japanese, Greek, Dutch, Polish, Portuguese, Russian and Turkish.
Transfer: thanks to our experienced drivers and a wide range of vehicles including cars, minivans, minibuses and buses, TuscanyAll.com provides transfer services to/from airports and train stations to the main Italian cities. Transfer services are tailored to customer requirements.
Accommodations: TuscanyAll.com offers the best Villas, Farmhouses, Historical Residences and B&B in Tuscany.
Our websites
Museums Reservations:
www.italy-museum.com;
www.rome-museum.com;
www.florence-museum.com;
www.milan-museum.com;
www.venice-museum.com
Group and Private Tours Reservations:
www.myflorencetours.com;
www.myrometours.com;
www.siena-museum.com
Incoming Services: