The Medici Family Guided Tour: Lorenzo The Magnificent and the TV movie
electronic voucher accepted
The Itinerary:
The Palazzo Medici Riccardi, Magi Chapel, Palazzo Strozzi (exterior), Palazzo Albizi (exterior) and Palazzo Pazzi (exterior).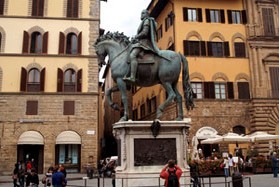 The Medici Family Guided Tour: Lorenzo The Magnificent and the TV movie. The Medici family managed to become the symbol of a city and took a very important role in the Florentine history.
This family supported the careers of several artists, and you can follow their footprints visible in the city's monuments, piazzas and historic buildings. This unique walking itinerary through the downtown Florence, will make you travel back in time all the way to the fifteenth century to explore the most symbolic places of the Medici Family in Florence as well as the palaces of enemy families like the Strozzi, Albizi, and Pazzi.
You will discover also the places where many of the scenes of the tv series "THE MEDICI" took place. You will learn more about the countless obstacles, betrayals and victories that took place in the history of Florence and the true essence of the main characters of the Medici Family.
Medici Family Tour
Starting Time High Season: 11:00 am 3:00 pm
Starting Time Low Season: 11:00 am
Frequency High Season: Tuesday, Thursday and Friday
Frequency Low Season: Tuesday and Sunday
Duration: about 2 hours
Language: English (the tour could be done in 2 languages)
Meeting Point: at 10:45 am in front of the main door of the Medici Palace in Via Camillo Cavour 3.
Price: 45,00 euro per person.
Children under the ages of 17: 23,00 euro per person.
The price includes: guide service, headphones for groups over 15 people, museum entrance ticket and pre-booking fee (skip the line).
CANCELLATION POLICY - GROUP GUIDED TOURS
In case of cancellation, please contact us.
If a cancellation is made at least 4 days before the day of the tour, the cancellation penalty is equal to 30% of the gross total.
For cancellations that are made from 3 days prior the day of the tour, the penalty charge will be equal to 100% of the gross total (price paid is NOT REFUNDABLE).
Customers who booked this tour also booked: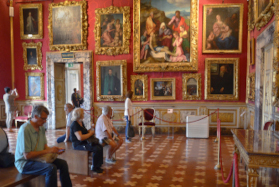 View tour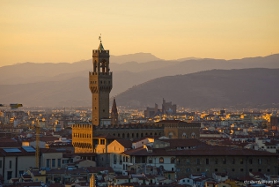 View tour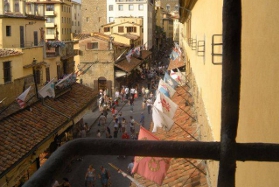 Experience the exclusive guided visit of the elevated enclosed passageway...
Starting Time:
11:30 am
Duration:
1:30 hrs
Price:
€ 65,00
Your guide will explain the details of Florentine life from the Roman times...
Starting Time:
11:15 a.m.
Duration:
3:30 hrs
Price:
€ 59,00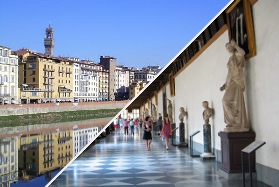 The tour covers the highlights of historical Florence...
Starting Time:
01:45 p.m.
Duration:
3:30 hrs
Price:
€ 78,00
See other interesting guided tours in Florence & Tuscany:
See all tours