Accademia Gallery + Uffizi Gallery Tour
Special Discounted Combination
electronic voucher accepted
The Itinerary:
Accademia Gallery, Uffizi Gallery.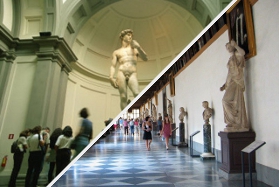 Accademia Gallery + Uffizi Gallery Tour. The Accademia Gallery is the home to Michelangelo's David, the most famous statue in the world! There are also some unfinished works by Michelangelo, the "Prisoners", which will allow you to see how he carved the massive blocks of Carrara marble. The guide explanation includes a detailed introduction to Michelangelo's life and his extraordinary period. Uffizi Gallery offers some of the most famous paintings of all times including Botticelli's Birth of Venus, Leonardo da Vinci's Annunciation, Michelangelo's Holy Family, Titian's Venus of Urbino and other works by famous masters as Cimabue, Giotto, Paolo Uccello, Filippo Lippi, Raphael and Caravaggio.
Accademia Gallery and Uffizi Gallery Afternoon Tour
Starting Time: 8:30 am or 1:30 pm
Frequency: every day except Monday.
Duration: about 4 hours
Language: English
Meeting Point: At 8:15 am or 1:15 pm in Via Cavour 12.
Price:
106,00 euro per person (instead of 116,00 euro!).

Children under 6: Free.
The price includes: guide service, headphones for groups over 7 people, museums entrance tickets and pre-booking fees (skip the line). Price does not include lunch.
CANCELLATION POLICY - GROUP GUIDED TOURS
In case of cancellation, please contact us.
If a cancellation is made at least 4 days before the day of the tour, the cancellation penalty is equal to 30% of the gross total.
For cancellations that are made from 3 days prior the day of the tour, the penalty charge will be equal to 100% of the gross total (price paid is NOT REFUNDABLE).
Customers who booked this tour also booked:
Your guide will explain the details of Florentine life from the Roman times...
Starting Time:
11:15 a.m.
Duration:
3:30 hrs
Price:
€ 59,00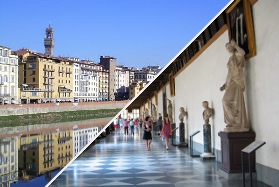 The tour covers the highlights of historical Florence...
Starting Time:
01:45 p.m.
Duration:
3:30 hrs
Price:
€ 78,00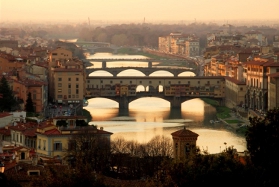 The tour starts with the visit of the Accademia Gallery, home to Michelangelo's David...
Starting Time:
11:15 a.m.
Duration:
6 hrs
Price:
€ 112,00
See other interesting guided tours in Florence & Tuscany:
See all tours