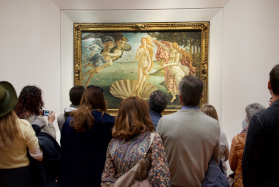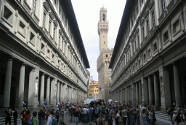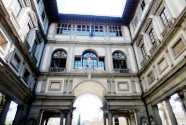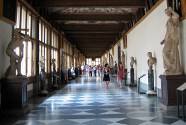 Uffizi Gallery. The Uffizi, (1560-1580) was originally meant to be an Ufficio (office) for magistrates as well as judges, technicians and merchants of Florence, the top floor was turned into a private gallery for the pleasure of the ruling family of Florence, the Medici, and their guests. In addition to paintings, statues, jewellery, scientific instruments, even weapons, were displayed there, which made it one of the most interesting and precious collections in the whole world. Since 1865 it became a museum, nowadays with 50 rooms housing paintings ranging from the 13th century to the 18th century. The highlights are the famous "Madonna enthroned" by Giotto, the "Battle of San Romano" by Paolo Uccello, the double portrait by Piero della Francesca, "Federico da Montefeltro", the "Birth of Venus" by Botticelli, in addition to three works by Leonardo, one by Michelangelo, a few by Raffaello and many by Tiziano. All paintings inside Uffizi have been displayed chronologically, so it is possible to fully appreciated all the innovations in art throughout the centuries.
Get your Uffizi tickets online!
Avoid the long queue at the Uffizi entrance! An exclusive booking service to get your tickets.
booking
Daily group guided tours!
Discover the museum of Uffizi through a group guided tour with a skilled tourist guide.
Reserved entrance, no need to queue and guaranteed daily departures!!!
booking
A skilled tourist guide at your disposal!
Discover Uffizi with your private guide!
Reserved entrance, no need to queue and you can decide the starting time of your visit!
booking
Customers who booked this museum also booked:
Hours
Open Tuesday to Sunday 8.15 am - 6.50 pm.
Closed Monday, January 1st, May 1st and December 25th.
Address and Map
Piazzale degli Uffizi, near Piazza della Signoria - Firenze.
How to choose the correct ticket
Reduced price tickets (just for European Union citizens)
- Between 18 and 25 years old
Free tickets
- Children under 18 years old
Exhibitions
Scheduled exhibitions inside the museums:
21.03.2016 – 28.08.2016 "Fece di scoltura di legname e colorì. La scultura del Quattrocento in legno dipinto a Firenze"
27.09.2016 – 08.01.2017 "Scoperte e Massacri. Ardengo Soffici e l'Impressionismo a Firenze"
Reach the museums in total comfort with our transfer service!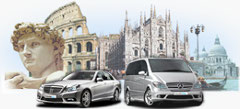 TRANSFER SERVICE
Book Now