All Florence (Full Day + Lunch)
Special Discounted Combination
electronic voucher accepted
The Itinerary:
Accademia Gallery, Uffizi Gallery, complete guided tour of the city.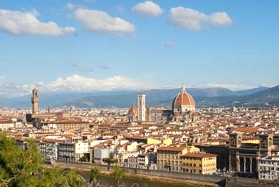 All Florence Tour (Full Day + Lunch). If you have a whole free day, we recommend that you take the complete guided tour of the city (morning + afternoon). Available at a promotional price, it also includes a "lunch" with drinks in a traditional old restaurant in the city centre, accompanied by our assistant. An expert local Guide will be with you all day long to show the city. The history, the art, the culture of Florence explained in a fascinating way through the unforgettable panoramas of the Piazzale Michelangelo and Fiesole and by visiting the city, the old town and the famous Accademia and Uffizi Galleries.
All Florence (Full Day + Lunch) Group Guided Tour
Starting Time: 9:00 am. From March to October the tour starts at 8:30 am.
Frequency: every day except Monday
Duration: about 9 hours
Language: English - MULTILINGUAL TOUR
Meeting Point: 15 minutes before the beginning of the tour, in Piazzale Montelungo, in front of the yellow street sign CAF TOUR & TRAVEL.
Price: 135,00 euro per person.
From March 1st to Oct. 31st – 143,00 euro per person.
Children under 6: Free (lunch not included).
The price includes: transport, guide service, museum entrance ticket, headphones at the museum for groups over 15 participants, lunch and drinks and pre-booking fees (skip the line).
CANCELLATION POLICY - GROUP GUIDED TOURS
In case of cancellation, please contact us.
If a cancellation is made at least 4 days before the day of the tour, the cancellation penalty is equal to 30% of the gross total.
For cancellations that are made from 3 days prior the day of the tour, the penalty charge will be equal to 100% of the gross total (price paid is NOT REFUNDABLE).
Customers who booked this tour also booked: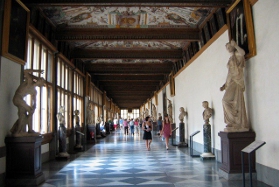 The guide will lead you inside the most important museum of Florence...
Starting Time:
03:30 p.m.
Duration:
2:00 hrs
Price:
€ 57,00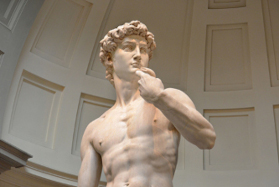 This tour will allow you to discover the Accademia Gallery...
Starting Time:
11:15 a.m.
Duration:
1 hrs
Price:
€ 42,00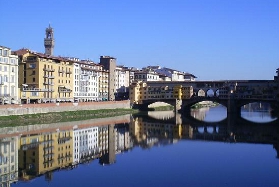 The guide will talk about history and anecdotes between Middle-Age and Renaissance...
Starting Time:
01:45 p.m.
Duration:
1:30 hrs
Price:
€ 25,00
See other interesting guided tours in Florence & Tuscany:
See all tours