Boboli Gardens

Opening Times:
November/February: 8:15 am - 4:30 pm
March and October: 8:15 am - 5:30 pm
April, May and September: 8:15 am - 6:30 pm
June/August: 8:15 am - 6:30 pm
---
Close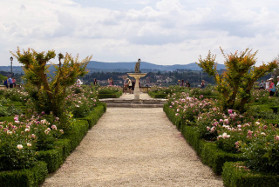 Situated behind the Pitti Palace, the Boboli Gardens is the most famous park in the city of Florence. For almost four centuries it has been the garden of the residence of the Grand Duke of Tuscany and for a short period of the kings of Italy.
The Medici family were the first to take care of its arrangement, creating the model of the "Italian garden" which was a source of inspiration for many European courts. The vast green surface, divided evenly, creates a true open-air museum, decorated with with ancient and Renaissance statues and adorned with large fountains and grottos, including the beautiful Bountalenti Grotta. Its charming routes allow you to capture the spirit of life in court. The Boboli Gardens is undoubtedly not to be missed for those who want to learn about the fascinating history of the city of Florence.
---
| | | | |
| --- | --- | --- | --- |
| Full Price | Half Price | Free | Closed on |
| € 13.00 | € 5.00 | € 3.00 | The first and on the last Monday of each month. |
At these prices a commission of € 4.75 must be added. Prices can be subject to changes due museum decisions, for special periods or events. The final prices are those indicated during the booking procedure when you choose the date of the visit.