Archaeological Museum

Opening Times:
Thursday - Sunday: 2.00 pm - 7.00 pm

---
Close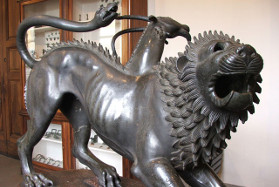 Opened up in 1818, it houses very important Etruscan remains, such as the "Chimera" a votive bronze statue found in Arezzo in 1553, a creature that is part lion, part goat and part snake. It was especially dear to Cosimo I as a symbol of power. Among the highlights, the statues of"Arringatore" (Speaker), "Minerva", the terracotta and travertine urns from Volterra, and the Greek ceramic vases with black figures. The museum is also very important for its Egyptian collection, second in Italy after the one in Turin.
---
| | | | |
| --- | --- | --- | --- |
| Full Price | Half Price | Free | Closed on |
| € 15,75 | € 9,75 | € 7,75 | Sundays (except the first Sunday of the month), Mondays,Tuesdays and Wednesday |
These are approximate prices and donít include temporary exhibitions or special price periods. Prices can be subject to changes due the period. The final prices are those indicated during the booking procedure when you choose the date of the visit.