Accademia Gallery

Opening Times:
Tuesday - Sunday: 9.00 am - 6.00 pm
---
Close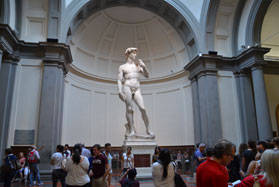 Former hospital in the 14th century, then an Academy of Fine Arts, it houses "David", the absolute masterpiece by Michelangelo, a must for all visitors of Florence. Sculpted between 1501-1504 to be an outside decoration of the Cathedral of Florence, it became instead a symbol of the commitment of the Florentine State to freedom and independence, as well as a symbol of the Medici's defeat in 1494. It still personifies energy, vigour and courage, symbolizing the whole mankind fighting for survival. His anatomy, later reproduced by Michelangelo's contemporaries, was carefully depicted, thanks to the in-depth studies carried out by the great artist. In addition to David, 4 statues of the Slaves commissioned by Pope Julius II as a decoration of his grave, the "Mourning over Jesus Christ" and "St. Matthew". The museum houses an interesting collection of paintings from the Middle Ages, Renaissance and early 17th century.
---
| | | | |
| --- | --- | --- | --- |
| Full Price | Half Price | Free | Closed on |
| € 16.75 | € 10.75 | € 8.75 | Monday |
These are approximate prices and donít include temporary exhibitions or special price periods. Prices can be subject to changes due the period. The final prices are those indicated during the booking procedure when you choose the date of the visit.